Brother Dan Cozart has been pastor of Grace Baptist Church since 1981. He has conducted revival meetings and Bible conferences throughout Texas, Oklahoma, Arkansas, Louisiana, Alabama, Indiana, New Mexico, Mississippi, Virginia, Nevada and North Carolina. He has preached on mission fields in Mexico, Brazil, Peru, the West Indies, and more recently Athens, Greece.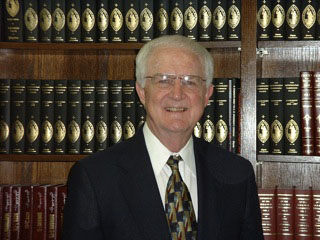 Brother Cozart founded and directed Broadcasting for Jesus, a weekly Gospel radio program, for twelve years. For 25 years he engaged in a weekly tape and CD ministry which reached thousands of home all over the nation. Currently, his weekly messages stream live on our website and ministers to believers not only in the local community, but throughout the nation, and into countries around the world.
In December of 2013, he will celebrate sixty two years of preaching the Gospel. He was regenerated by the Holy Spirit and converted to faith in the Lord Jesus Christ in 1949 and received the call to preach soon afterward. He and his wife, Nora, have two daughters, two sons and eight grandchildren.
Our Pastor is committed to preaching
The Sovereignty of God
The Lordship of Christ
The Depravity of Man
An Effectual Atonement
Salvation By Grace Alone
The Perseverance of God's Elect
Pastor's Itinerary for 2017
March 10-12  Central Baptist Church, Grenada, Mississippi
April 21-23    Hopewell Baptist Church, Winnsboro, Texas